ahhh, i love the grammys!!!
:) especially when one of my absolute favourites was up for 10 grammys!!!!!!!!!
alas, she only won six.. but hey thats apparently a new record.
heck yes beyonce!
I DO LOVE WHAT SHE WORE THOUGH.
AND THE PERFORMANCE WAS AHHHHHMAZING!
you can watch that on youtube peeps.
jesus. that girl just tries a little toooooo hard in my opinion.
but helloo - did we see those power shoulder on 'B'
i do love that the artist have like three different outfit changes.
the red carpet dress // sitting down, accepting award change // performance change
1. Beyonce.
and probably the other craziest dress of the night.
one whom Hamish and Andy deemed a safety hazzard...
good ol'
MAN
LADY GAGA
jeez the power shoulders really had a go at the grammys this year.
i must say i do like that top half of the green outfit GAGA wore when she performed with ELTON JOHN.
what are some other outfits that made a pop...
miley, broke it down with that dress - young, sophisticated and chic. and i love that print.
as much as like jen hud's purple dress there, her performance and red carpet outfit were... meh.
i think one of my favourites of the night has to be the darrrllinng Keri Hilson. Sweet in Song, Sweet in Fashion. the girl is positively glowing!!! (followed by some other beautiful people)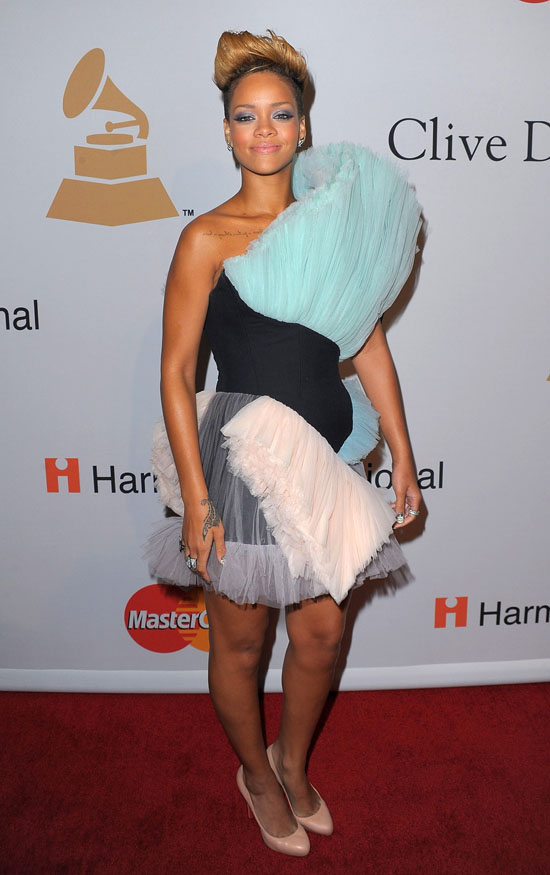 and what the f*ck was KE$HA THINKING?!?!?!? WITH THIS ENSEMBLE..???
she looks like a cheap vegas "lady of the night" - i heart the eyes here.. and she is actually a very pretty girl. but someone please shoot her stylist.
apparently (well according to one of my favourite bloggers - Coco's Tea Party) The Grammy's are notorious for bad fashion.. i didint think they were that bad... but there were definetly some bad choices out there.. ughhh..
Check out my buddy over at
http://myuberfablife.blogspot.com/
She has some hilarious insights on what some of these people wore!
Hahaha.. I love Jayde.
kazz; xo
amped+dangerous.