it is no surprise, that when Miu Miu released its Spring/Summer collection for this year, that fashion bloggers and DIY'ers alike took to their turn in replicating these beautiful prints and clothes.
i took an easier approach :)
MIU MIU INSPIRED NAILS
HOW I DID IT
Well, your basic manicure - shape, polish and buff.
Then I grabbed my Sally Hensen Top and Base Coat and painted that on.
Next, I painted my nails with like this $2 nail polish, it is Ulta3 in Spring Fling..I heart this nail polish.
Then got mother to draw some swallow prints on to the nails. We first tried a Sharpie (a wise move) but cause the one we had was way to fat, we used a black ink pen.. still pretty good.. but obviously will streak a little if not careful. So if possible, definitely go for a Sharpie - a thinner one. :)
Then the most important step is too put a top coat on (Sally Hensen, or Cutex Top Coat) so that the swallows don't rub off.
The post by
Blue is in Fashion This Year
, on Miu Miu DIYers galore is so helpful and inspirational.
There are heaps of ideas and different bloggers all doing it Miu Miu style with a hot glue gun.
ARGH
, so envious of this.
(click the picture to get to the post)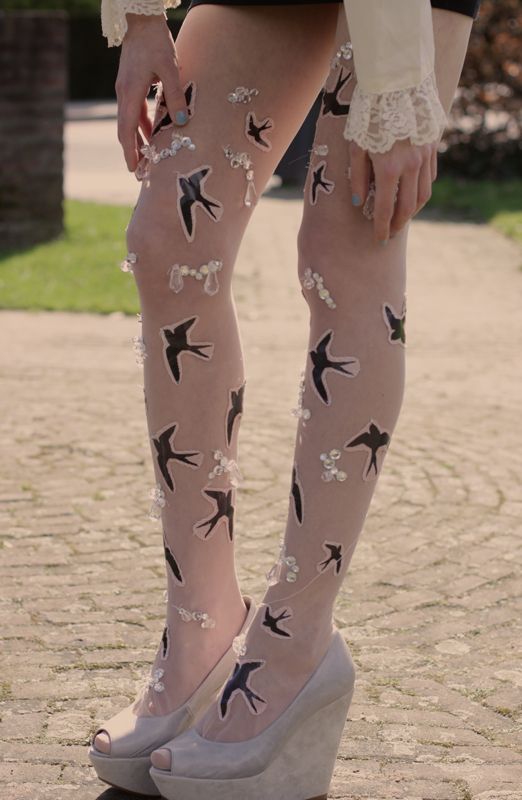 I am upto more DIY No Good; with this sweater, to be turned into something cool. Haha..
So i am going to keep going with this, while i watch Good News Week.
Maybe some embellishments? Inspired by more Miu Miu .....yes I am a little obsessed.
i think i am going to look like a grandma.. hahah
kazz; xo amped+dangerous.